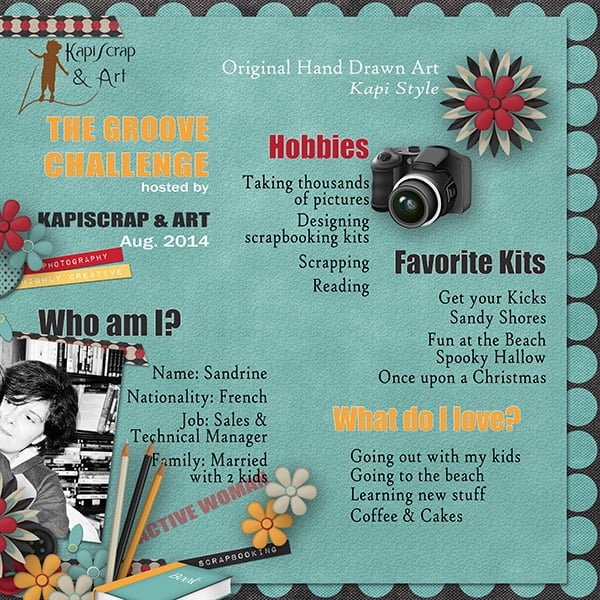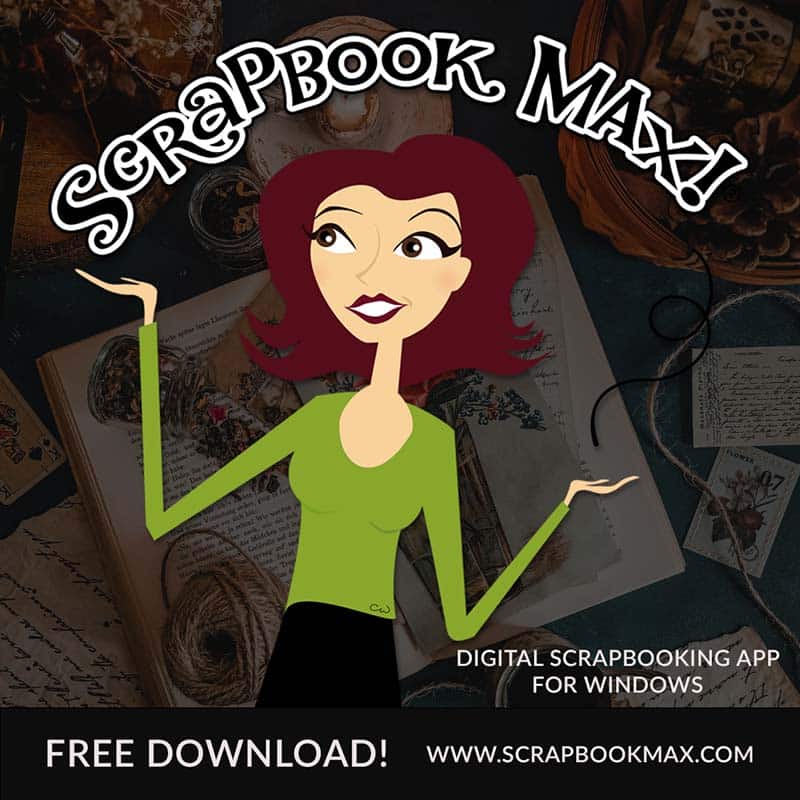 Presenting a Special Edition of The Groove with lots of treats and fun in store for you! This issue is hosted by Scrapbook MAX! kit designer Sandrine Boarqueiro-Verdun (a.k.a. KapiScrap). A big thanks to Sandrine for sharing her creativity – and a FABULOUS freebie!
THE CHALLENGE
Join in on Sandrine's super scrapbooking challenge bursting with originality! The reason it's so original? It's all about YOU! (And if that wasn't reason enough to join, Sandrine is giving away a gorgeous summer-themed freebie to everyone who participates. Full details below.)
Here are the challenge instructions from Sandrine:
Make a layout page (square size) to introduce yourself. You should add at least one picture of yourself.
As you design your page, please use ALL of the following items:
1) some of your favorite things
2) quirky stuff you like or do
3)your favorite movies/TV shows/food/snack/music
4)what is most important to you
5) your hobbies
6) your favorite season…
Once you've made your page, please post it in this Challenge Thread.
Here is a sample page which introduces me. I have used It's a Scrapping Thing, which is one of my latest kits: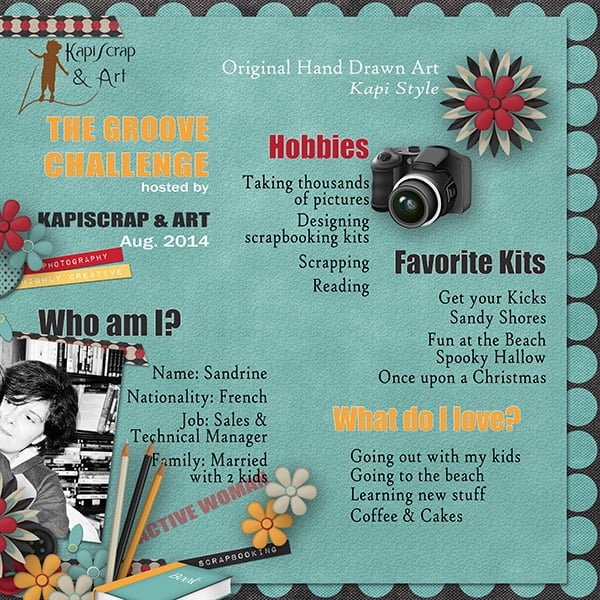 THE FREEBIE
Everyone who participates in Sandrine's challenge will receive a link to download this freebie add-on to Sandrine's "Summer in the City" Kit series – great for all those summer pics you've been snapping! (Thanks Sandrine 🙂 )
In order to be eligible for this freebie, you need to participate in the above challenge, posting your page here by August 31, 2014 . At the end of the challenge, Sandrine will send a private message to all participants with a link for you from which you can download your prize.
THE SALE
ONE WEEK ONLY! Save 20% Off on Digital Kits by KapiScrap (Sandrine Boarqueiro-Verdun)
For one week only, you can get 20% off on Sandrine's kits! To get the discount, please visit Sandrine's category in the Scrapbook MAX! Digital Kits and Templates Store. Add a minimum of $5 worth of Sandrine's kits to your cart, then type in the code SUMMERTREAT exactly as shown into the 'Coupon Code' field before checkout. You must type in the code at the time of purchase to get the discount. Hurry – offer is one week only and ends on August 20, 2014! Valid on new orders only.
Here are some of Sandrine's favourite kits (a great time to scoop them up with your 20% off coupon code!):