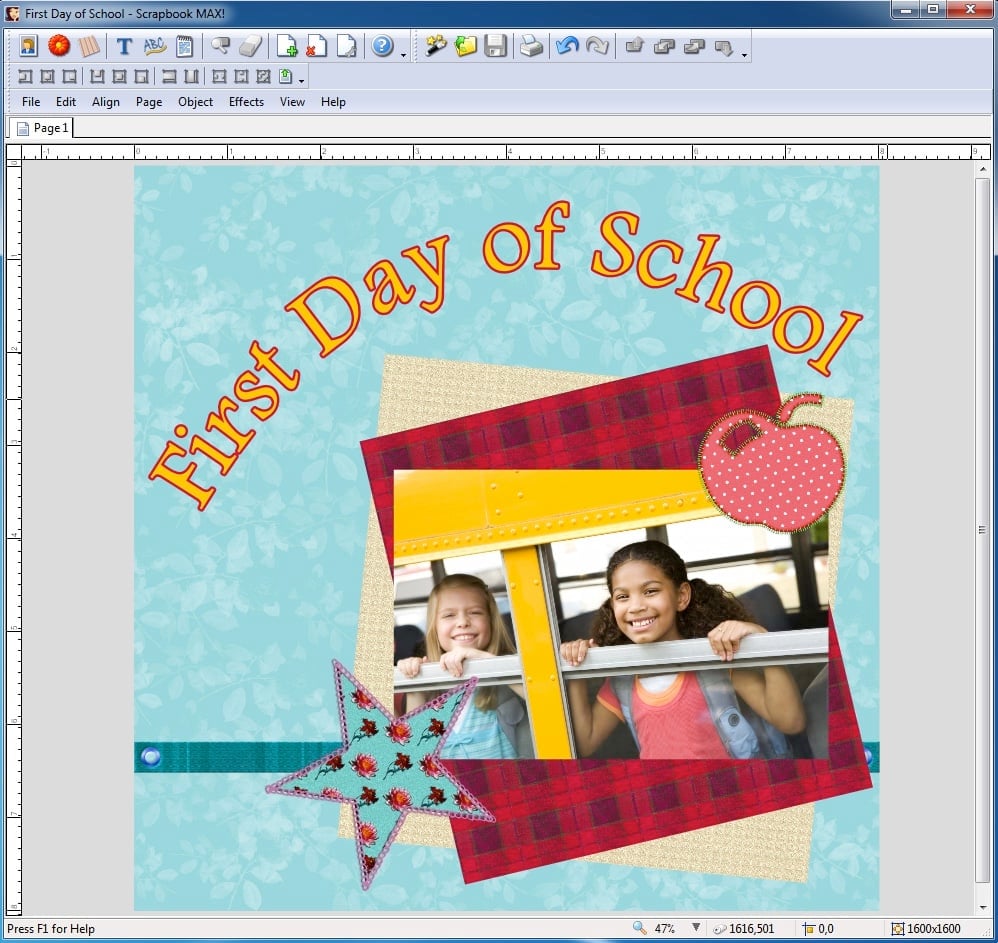 Try it FREE for 30 days! Once you see how fast and easy Scrapbook MAX! 2.0 software makes digital scrapbooking, we bet you'll love it. While other companies make you open up your wallet before you've seen what's "in the box", we do things differently here.
We want you to be absolutely thrilled with your decision to buy Scrapbook MAX! digital scrapbooking software. So, download it, take it for a risk-free "test drive", and make sure you love it before you buy.
Simply enter your name and email address and then click on the download button. We'll then send you an email message that contains your free download link – so please make sure you enter your email address correctly! (Download File Size: 71.5 mb)
By submitting this form, you agree to receive followup emails from Scrapbook MAX! You may unsubscribe from these emails at any time. Don't worry, it's all ham, no spam! We won't sell, rent or give away your email address to anyone. We only use it to keep you informed about your free trial as well as provide helpful tips, tricks and articles on getting the most out of Scrapbook MAX!.
Free Scrapbooking Software? What's the Catch?
The free trial version of Scrapbook MAX! digital scrapbook software watermarks your scrapbooking layouts with a trial banner and is only valid for 30 days. After 30 days you can choose to purchase the scrapbook program in order to keep using it. There is no obligation to purchase, but we're betting that you'll be hooked!
The trial version of Scrapbook MAX! only comes with a small fraction of the scrapbook templates, scrapbooking embellishments, scrapbook papers, patterns, shapes and other digital scrapbooking content that you get with your FREE BONUS when you purchase the software. It's just too much to include in the free trial!
Scrapbook MAX! Software System Requirements
Microsoft Windows 10, Windows 8, Windows 7 or Windows Vista operating system
2 GB RAM memory
50 GB free hard drive space
Mouse
Please note that while Scrapbook MAX! software is designed for use on Windows computers, it also works great on Apple Mac computers if you use a Windows emulation product like Parallels or VMware!
Scrapbook MAX Digital Scrapbooking Software Questions?
If you have any questions about Scrapbook MAX! please visit us in the community forum. We'd love to help you! The forum is not only a great place to get answers to product related questions, but it's also an excellent way to find additional resources for Scrapbook MAX!, meet new friends, share scrapbook themes and much more.
How do I purchase Scrapbook MAX! Software?
Click here to take advantage of special web/online only pricing on Scrapbook MAX! digital scrapbooking software. You can purchase 24 hours a day, 7 days a week and download the full product at your convenience.