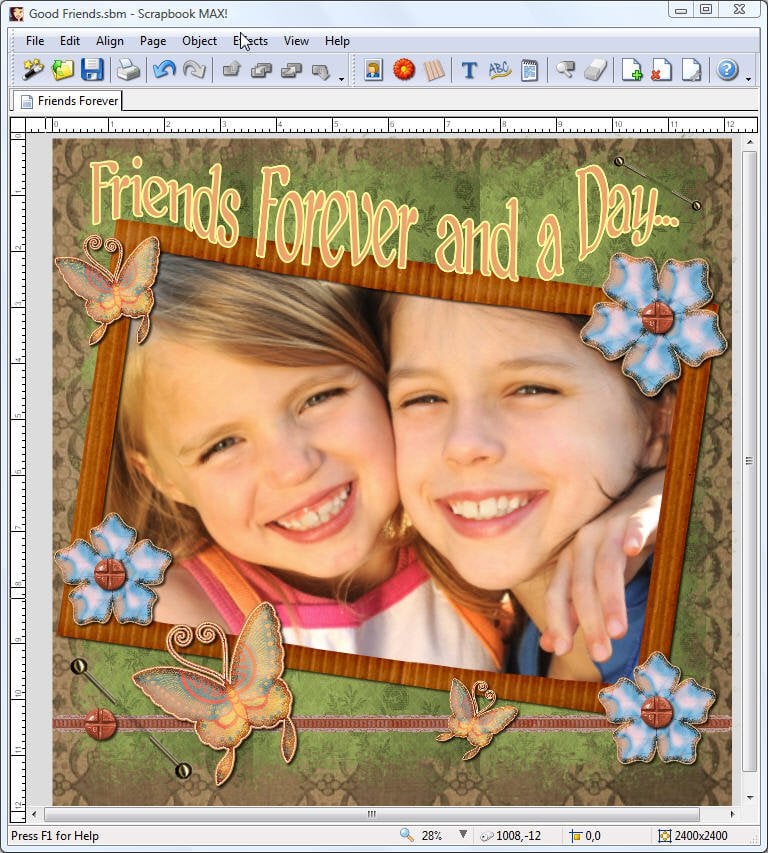 Scrapbook MAX! 2.0 is a complete digital scrapbooking software kit with everything you need to make gorgeous scrapbook pages. Full of creative features and options, Scrapbook MAX! software is easy to use and sure to bring you stunning results.
If you know how to use your mouse, you are already well on your way to making beautiful digital scrapbook pages with Scrapbook MAX!. Add digital photos and elements to your page with a few clicks of your mouse. Then, in our easy-to-use design space, resize, reposition, and rotate everything on your page.
Adding dramatic shadows, highlighting photos and embellishments with artistic image effects, and bending and curving text into fancy shapes and patterns takes just a few seconds more. It's like working with paper and scissors, and it couldn't be easier!
Archival Quality Digital Scrapbooking
Best of all, your memories will last forever when you use Scrapbook MAX!. Our software offers a host of archival-quality publishing options for your scrapbook pages. Publish your pages as high-resolution prints, turn them into high-quality .JPG, .PNG. and .TIF images, create .PDF documents, slideshows and more. You no longer have to worry about wear and tear and the effects of time on your photos. With Scrapbook MAX!, you have a permanent record or your memories that you can always rely on.
Don't just take our word for it!
Of course, we're very proud of our software and have worked hard to include all the best digital scrapbooking features. But what really matters is that tens of thousands of scrapbookers all over the world love Scrapbook MAX!, too! Here's what a few real people have had to say:
Scrapbook MAX! is such an awesome way to 'IMPROVE' on my photo collection. It's unbelievable! I love it and would definitely recommend it to anyone wanting to do digital scrapbooking!
Lisa- Pawhuska, OK, USA
I am a graphic designer by profession, but I love the simplicity of Scrapbook MAX!. It's easy to use and produces a beautiful end product. I love that I can import papers, elements, etc. that I already have into your wonderful layouts to make a truly unique page everytime.
Laurie – Knoxville, PA, USA
Love it, Love it, Love it! It is so much fun to use and so easy to make changes and be creative. Shared the news with a friend and she bought it also.
Cathy – Temecula, CA, US
See what else people are saying about Scrapbook MAX! on our testimonials page.
The Gold Standard in Digital Scrapbooking Software
Scrapbook MAX! 2.0 has received numerous rewards for its user-friendly interface and professional results. Recently, our software has earned the prestigious '5 Cow' Award. Watch the video below and learn why Scrapbook MAX! 2.0 is the top-rated digital scrapbooking software.
Get Scrapbook MAX! 2.0 and make your memories last forever!
Scrapbook MAX! comes with everything you need to make and share creative, personalized scrapbooks. Scrapbook MAX! 2.0 is a complete digital scrapbooking software package, and quite simply the best value in digital scrapbooking available. Purchase Scrapbook MAX! 2.0 software today for only $39.95 $29 and get the Life is Beautiful Mega Expansion Pack FREE! Don't miss out on this great deal – act now!
Learn More…
Keep reading to learn more about Scrapbook MAX! digital scrapbooking software. Here are a few topics you may like to know more about: