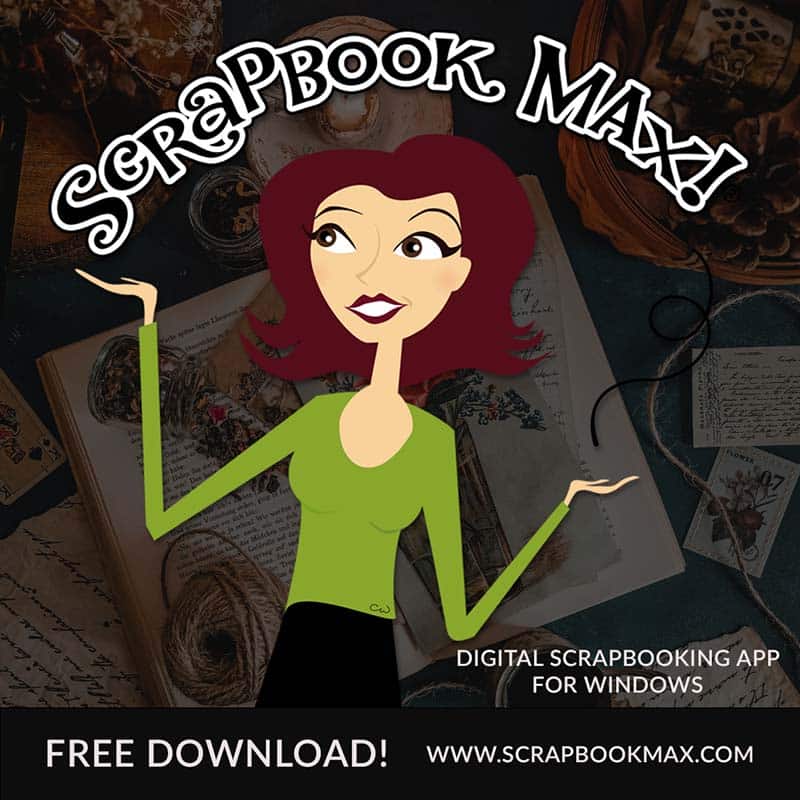 In the Groove
Enjoy the April issue of The Groove jam-packed with scrapper profiles, a tutorial, freebies, store discounts, challenge details, the chance to get a custom kit designed just for you…and more!
Top layout by Kaye.
Meet Scrapbook MAX! Designer Amanda Wittenborn
Welcome, Amanda – a new and already super busy designer!- to the Scrapbook MAX! Design Team. Get to know Amanda in the profile she has shared below (and enjoy some freebies that she's shared, too!).
My name is Amanda Wittenborn and I have been designing digital scrapbook kits since January of 2011. I have been crafty and creative my whole life, and knew that "someday" I wanted to design my own papers and elements to meet the needs I had as a scrapper. So I decided to give it a try, and I am hooked! I tend to design kits that go with what is going on in my kids lives at the moment. So you will see a new movie kit coming out from me, since we just took my youngest to see his first movie! Many of my kits are kid themed since my kids are my favorite subject to scrap! I have 2 little boys, age 6 and 2 and a wonderful hubby I have been married to for almost 10 years. Besides designing digital scrapbook kits I also teach private piano lessons.
Some of Amanda's favorite kits:

Timeless Kit – I was actually inspired by the floral patterns in the paper, and put together this amazing color scheme to go with them perfectly. I packed this kit with tons of texture and beautiful floral pieces. It has a vintage/heritage feel to it, I have been told the papers look like vintage wall paper. I just love how this kit blossomed and turned out!

Woodland Winter Kit – This is one of my most favorite kits I have made. I just had this fun idea to use woodland animals, but in a winter setting. Think of winter getaways and how quiet it can be during a snowfall, that's what this kit make me think of.
Thanks for sharing, Amanda! For those of you looking for more creations by Amanda, check out her category in the Scrapbook MAX! Store. PLUS! Find a freebie from Amanda and discount on her featured kits just a little further on in this issue of The Groove!
Scrapbook Tutorial with Carena Scott: Linking Frames
Below is a wonderful tutorial on how to link frames in Scrapbook MAX!, generously shared by creative Scrapbook MAX! Designer Carena Scott. You're sure to use this useful technique over and over again in your pages!
Hint: To view the steps at a larger size, just click on them – and flip through them by clicking on the "next" arrows that appear when you mouse over the right side of the image.
For more scrapbook tutorials and freebie kits that are Scrapbook MAX! compatible, check out Carena's blog.
To see Carena's beautiful selection of kits, see Carena's category in the store.
Heritage Layout Inspiration
Heritage pages are not only beautiful, they tell such a rich story. Get inspired by Scrapbook MAX! community member Kaye's lovely scrapbook pages (the first one is the layout featured at the top of this issue) and her story below!
From Kaye:
Don't you agree that there is a certain charm about old black and white, and sepia photos? I look at them and my imagination takes me to all sorts of places, and I wonder what the story behind the picture is.
Letha, another Scrapbook MAX! community member, has showcased lots of beautiful scrap pages using her family's dated photos here on the forums. It inspired me to go through my parents old photos to see what gems I could find. There were so many! I decided then and there that I was going to restore what I could and make photo books for any of the family that wanted them so that these wonderful old photos could be seen.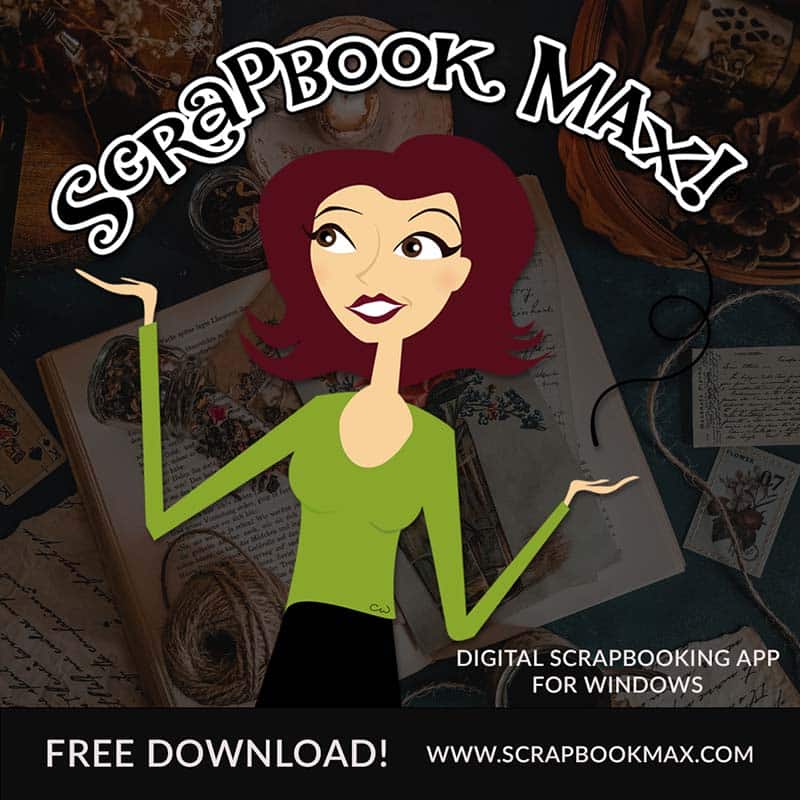 A layout from Kaye's heritage project.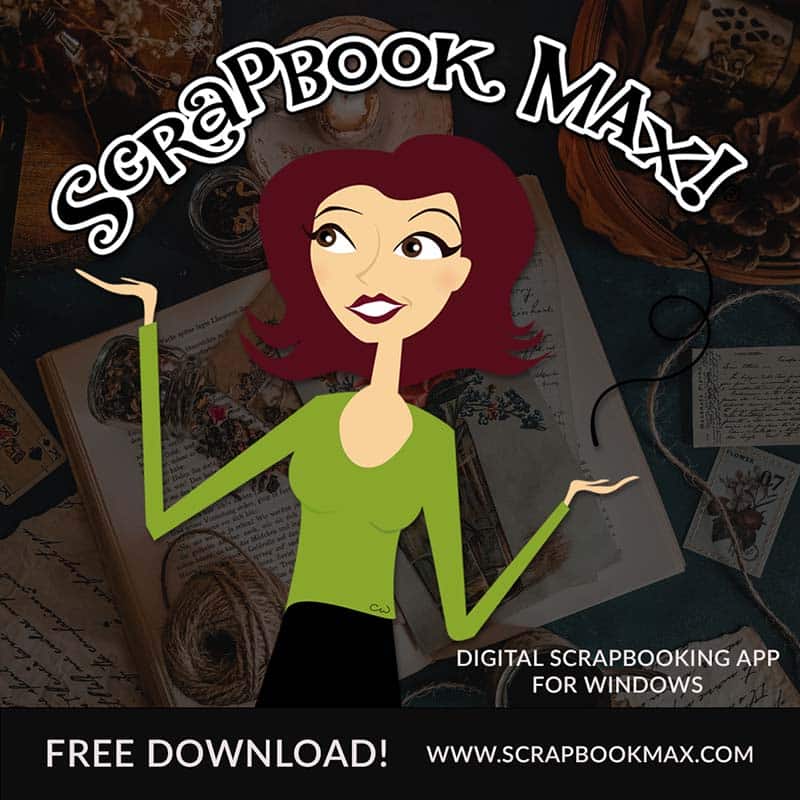 A layout by Letha that helped inspire Kaye's ongoing heritage project.
The Groove Monthly Freebie Challenge
Each month a designer shares a freebie with Groove Readers and challenges you do to something fun with it! Find Amanda Wittenborn's "Movie Night" freebie and fun movie-themed challenge here!
April 2012 Featured Kits
Are you loving Amanda's Groove Challenge Freebie? Looking for kits with her signature style? Here's a few for your list, all found in our Featured Content section of the store! You can save 10% off by adding any of these four featured kits to your cart and typing in the coupon code APR-AMW at checkout. Offer is valid on new orders only from the Featured Content section – expires April 30, 2012.
April 2012 Challenges
There's always something going on in the Scrapbook MAX! Challenges and Contests Forum! Here's what to keep your eyes open for:
April Challenge Schedule
April 1-31, 2012 – The Groove Monthly Freebie Challenge (Amanda Wittenborn)
April 1-31, 2012 – Designer Monthly Challenge (KapiColors)
April 15-31, 2012 – Mid-Month Challenge "From Boring To Beautiful" (Deanne Gow-Smith – approximate start date is the 15th)
From Deanne – Participants will get a bland "boring" one-color kit to work with. The goal is to transform it into "beautiful" using JUST ONE additional color. Any embies may be added but 1 color only to be added…
Have Deanne Turn Your Idea Into a Custom Kit!
Last month's 'Custom Kit' by Deanne Gow-Smith
From Deanne:
If you have an idea for a kit that you would like me to consider designing, all you have to do is email me at [email protected] by April 10, 2012 with your request for a specific KIT theme. Add lots of details of what you would like to see in it: colours, type of embellishments, wordart, etc. I will select one of suggestions I receive, and create a custom designed KIT and a TEMPLATE for the winner.
Just for participating and emailing me your request and suggestions, you will receive 1 x FREE KIT valued around $5.00.
Note: THE WINNER of the custom-designed kit is invited to post a layout that they make with this kit in the Scrapbook MAX! gallery. We'd love to feature it and the story behind your request in an upcoming issue of The Groove!
Look for the next issue of The Groove on May 1, 2012!