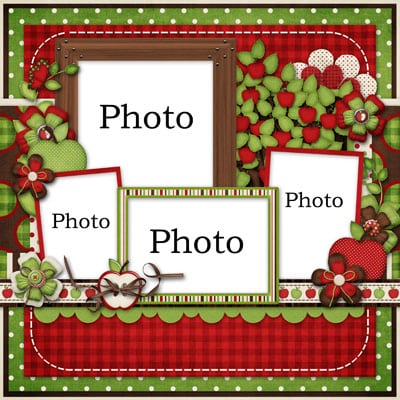 The Groove November Freebie Challenge!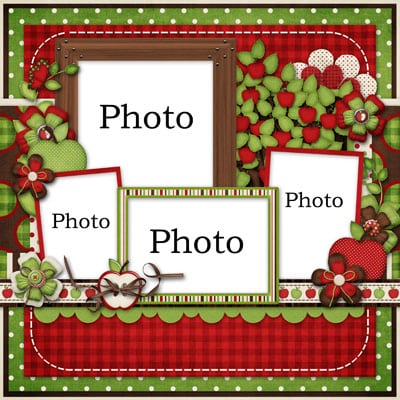 Freebie is based on the same "applelicious" theme as in the sample above
This month, designer Katie Castillo has shared an adorable 5 x7 brag book page based on her scrumptious "Applelicious" line of designs.
The Challenge:
Make 3 layouts with Katie's freebie page.
•For the first page, pop in the perfect photos, but don't change anything else (you can add journaling if you wish).
•For the second page, using the same photos, rearrange the embellishments and other elements to layout the page in a different way.
•For your third page, choose new photos, and alter the colors of the page (you can rearrange the items on this one or leave Katie's layout intact).
Find the Challenge Thread here!
Scrapping Challenge 34 (Weekly Challenge hosted by Michelle McCoy)
From designer Michelle McCoy comes Part 1 of a 2 part challenge:
"Part 1? I suppose you are wondering what I'm up too this week, huh? lol….we are going to have a 2 parter…Each one will be a week long..Try to make your pages the best you can for this challenge, and you'll understand why on the second week…It's a secret…"
Find the list of items you need to use for Part 1 of Michelle's challenge here.
November Designer Challenge – hosted by Carena Scott
From designer Carena Scott:
For the Challenge this month…
1. Use only the mini kit (pictured above) to make your layout
2. You can however use shapes to add interest
3. Upload your layout to the Scrapbook Max Gallery and Challenge Gallery
4. Come back here and proudly show us your layout with link to your gallery so we can all leave you some love.
5. Make your layout as complicated and clustered as much as you can. (just love those busy layouts)
6. Most of all – enjoy yourself and have lots of fun.
Pretty Easy – Can't wait to see what you do!