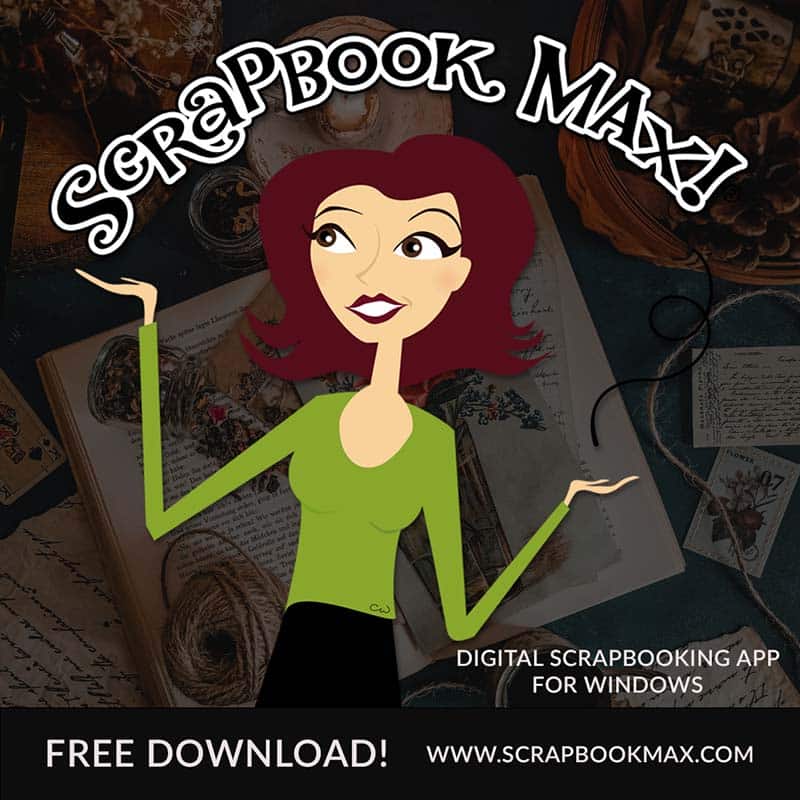 In the Groove
Another edition of The Groove is here, packed with a scrapper profile, great discounts, freebies, challenges and more!
We're starting things off with a dazzling layout from Scrapbook MAX! community member Aussie Annette above to get you all inspired. Sometimes its tempting – and absolutely just right – to pack your layouts with color. Other times, one color is just as dramatic. It can really make a statement. Thanks, Annette!
Scrapbook MAX! Designer Profile

Meet Sandrine Boarqueiro-Verdun, a Scrapbook MAX! Digital Kit Designer, frequent challenge host, and very helpful member of our Scrapbook MAX! community! Below, you'll get to know Sandrine a bit better, enjoy a few of her favorite layouts and comments by those who use her kits in their pages. Plus, she's sharing an AWESOME freebie and challenge with you! Enjoy – and thanks, Sandrine! 🙂
Hello Dear Groove Readers!
Let me introduce myself to those of you who don't know me yet. My name is Sandrine aka KapiScrap (or KapiColors). I was born the month of October to the last century (LOL) in Versailles, France. I have been living in the South West of France (in the "cassoulet" country) for more than 12 years.
I created my own company in 2000 at this period. I work in the development and testing (quality) software area. Two years ago I created KapiScrap & Art, which focuses on the digital scrapbooking industry. The organization has three main activities: scrapbooking kits design, resale of Scrapbook MAX! on the French market, and training courses. If memory serves, I discovered digital scrapbooking at the end of 2009.
I'm married and I have two adorable kids: 6 and almost 10. They are, of course, my favorite models, but they are also a great source of inspiration. I'm very lucky as the youngest one loves striking poses for the photos and dressing up, leaving me with plenty of photos for different themes.
Many of my kits are kid themed since my kids are my favorite subject to scrap, and also because I like funny stuff, but not solely. During the day I work on very serious and critical topics, so when I design a kit I like getting swept away in funny characters like Mr. & Mrs. Bunnies in Hoppy Easter, my little Reindeer in Reindeer Village, or the friendly penguin in Winter Fun Penguin Style.
Before starting to draw the items of a kit or creating papers, I think a kit as a *whole*: the style, the pallet, and I list the items. We are two persons designing at KapiScrap, so we also share the tasks as we draw everything from scratch and some items require several hours to be designed; an example is the bat in Witches Brew, or very sophisticated items like the beater in Baking Memories. My colleague (and husband) is a really great designer who has an eye for detail so for the very sophisticated items he is the right person. Some kits like Forever Adorable I & II, Hoppy Easter, Winter Fun Penguin Style though are 100% me, and I always insist that we design everything from scratch, so that means that our kits are unique.
I have loads of ideas for themes… but I don't always have enough time to design all the kits. That being said,I have asked some members of my CT to describe my "designer" work as they are the best persons to describe my style, as they work with it regularly. My girls Monkey Musing, Tigroune and Tin Tin had this to say:
"Fun, playful, colorful hand drawn elements that scream out are different from everyone else's work. You don't use CU items so your items are unique to only your kits. Plus your kits and templates are well thought out. You have an eye for detail which is why your work is refreshing."
"Each of your kits has its own exclusive items which are very well designed with any detail. Your kits are always very comprehensive. What I definitively love in your kits is that they are unique, you can't find your items in any other kits, and the quality of each item allows to print any page for a perfect result".
"I love that you have a lot of papers and shapes that can really make someone use their imagination, and I love that your kits are bilingual, I think that is one of the features that makes you stand out. Also you are not afraid of colors in your kits. Your templates are real original with the circle shapes…"
Thanks, Sandrine for sharing your designer story and for sharing lovely images and comments on your work! It was great to get to know a bit more about the person behind the beautiful digital scrapbooking kit and template designs!
– The Groove Editors
A couple of Sandrine's favorite layouts (with her favorite models!):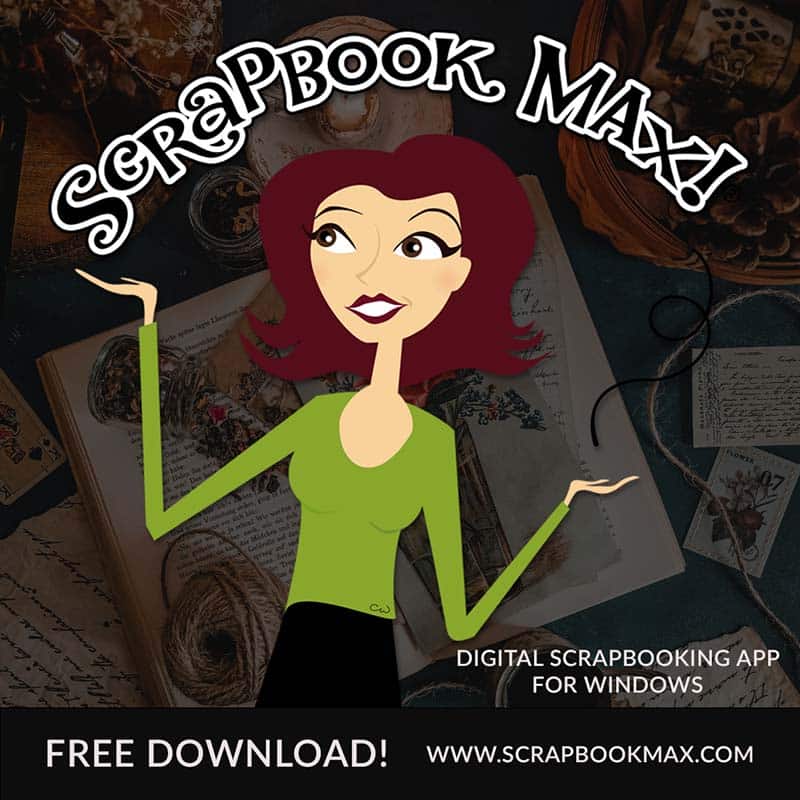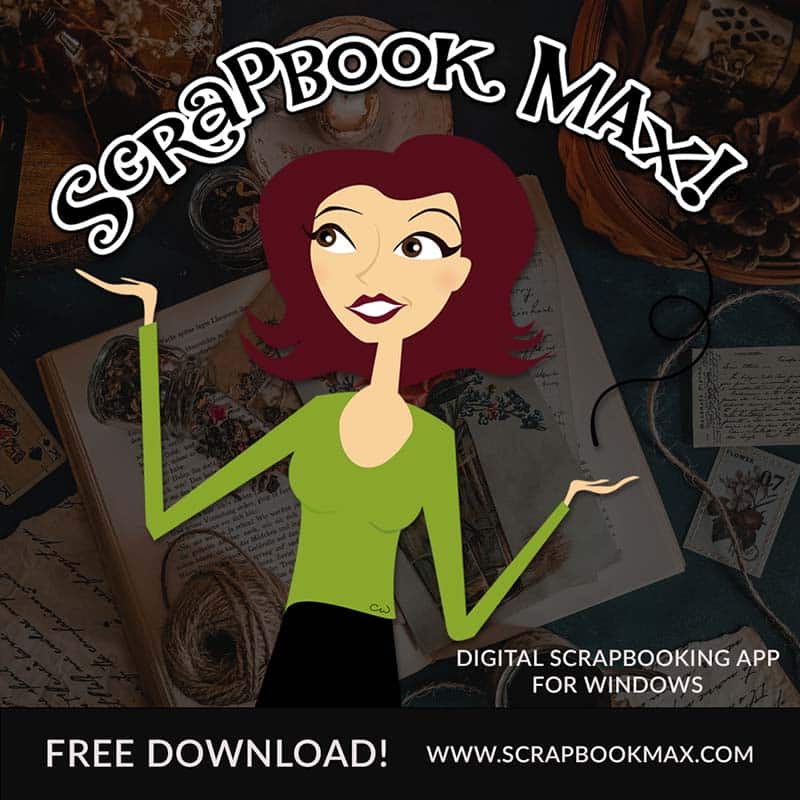 Get a Discount on Featured Scrapbooking Kits
Love this kit and the three kits showcased in Sandrine's profile above? They are the feature kits in our store all month long, and you can get them for 10% off! All you need to do is add them to your cart, and use the coupon discount code SAB-JUN. Applies only to the kits found in the Featured Content section of our store, new orders only. Offer expires June 30, 2012
The Groove Monthly Freebie Challenge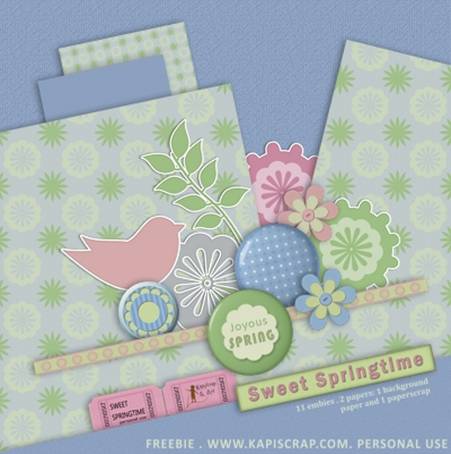 Each month a designer shares a freebie with Groove Readers and challenges you do to something fun with it! Find Sandrine's "Sweet Springtime" freebie and challenge here!
June 2012 Challenges
There's always something going on in the Scrapbook MAX! Challenges and Contests Forum! Here's what to keep your eyes open for:
June Challenge Schedule
June 1-30, 2012 – The Groove Monthly Freebie Challenge (Sandrine a.k.a. KapiColors)
June 1-30, 2012 – Designer Monthly Challenge
June 15-31, 2012 – Mid-Month Challenge (Deanne Gow-Smith – approximate start date is the 15th)
New Releases in the Scrapbook MAX! Kit and Templates Store
Great new kits are added to the Scrapbook MAX! Digital Scrapbooking Kits and Templates Store each month.
Below is just a small sample of some of new kits recently added to the store by various designers:
Fiona Storey – Sentimental Punk:
Katie Castillo – My Birthday Boy Cluster Frames:
Deanne Gow-Smith – Laura Jane:
Shades of Purple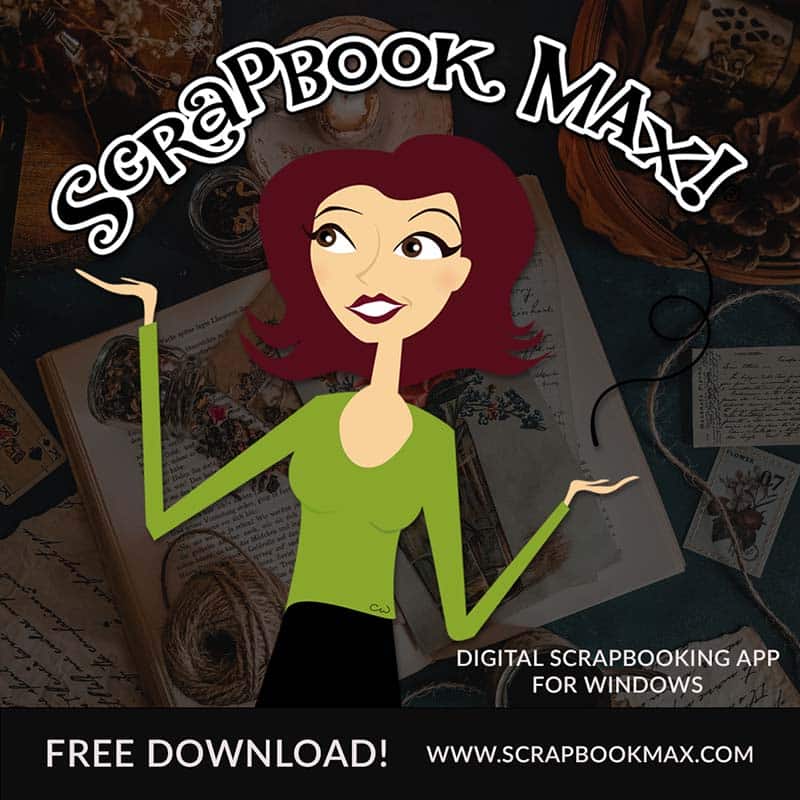 Another almost-all-purple layout, this one from Scrapbook MAX! member Tigroune. While using one color can make a dramatic statement, it can also convey sweet simplicity and the perfect backdrop for a great photo like this one. Purple-licious!
Look for the next issue of The Groove on July 1, 2012!